What is Retinopathy of Prematurity (ROP)?
Retinopathy of prematurity (ROP), as the name suggests, can affect the eyes of infants who have been born early (preterm). The more preterm the baby, the greater the risk of ROP: ROP is unusual in babies who are only 3-4 weeks premature. Other factors which increase the risk of ROP are poorly controlled oxygen, infection, and failure to gain weight after birth, which means that preterm infants who receive suboptimal care from immediately after birth are the more likely to be affected.
Preterm infants are born with immature organs, including the light sensitive layer inside the eye, the retina, and the blood vessels which supply it. In ROP the immature blood vessels first stop growing normally, and then grow abnormally. The abnormal blood vessels can leak, and pull the retina away from the back of the eye (retinal detachment). Both eyes are usually equally affected.
Preterm babies are not born with ROP as it starts to develop a few weeks after birth.
Several different stages of ROP are described: some babies only develop the milder stages which get better without treatment. Other babies develop more severe stages which can progress rapidly to retinal detachment. Once the retina becomes detached, little can be done to restore vision, and the child becomes blind for the rest of their life.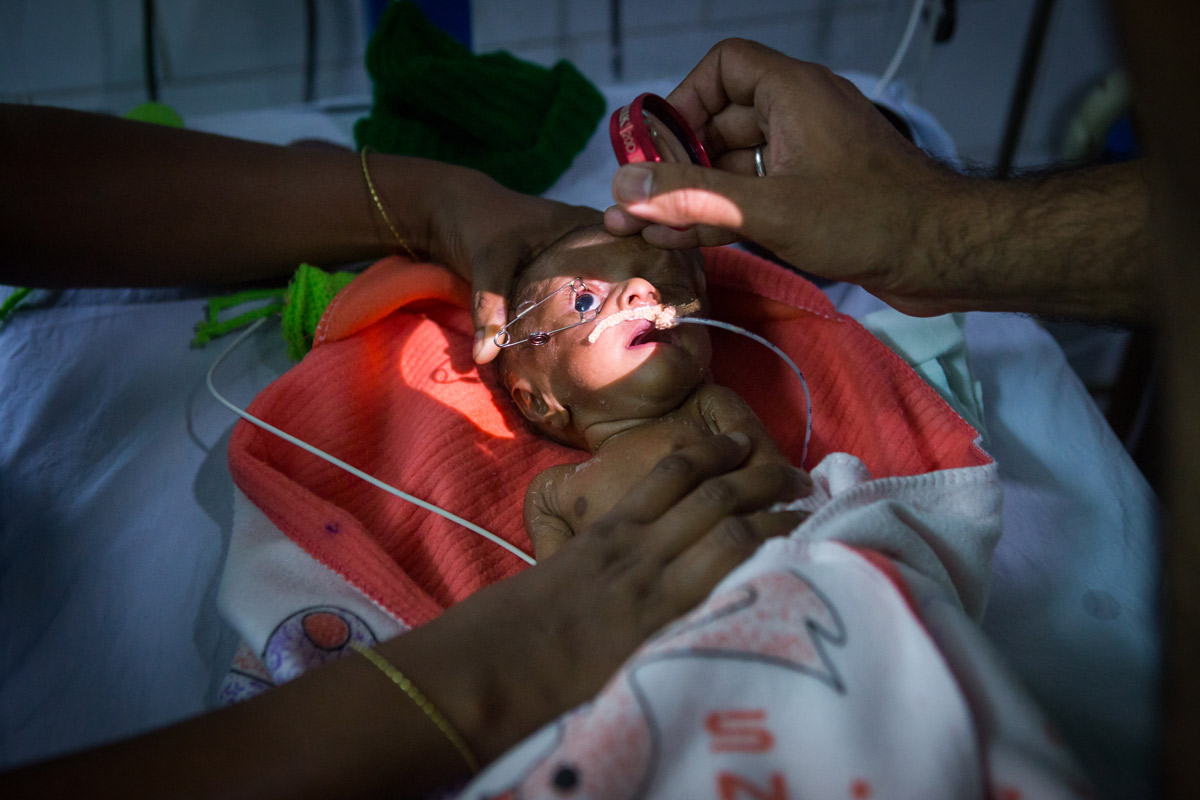 A preterm infant being examined in Gandhi Hospital, Hyderabad, India
Retinopathy of Prematurity (ROP) is a potentially blinding disease of the eye that can affect infants born four or more weeks preterm and receive intensive neonatal care. In ROP, the developing retinal blood vessels grow abnormally, which can lead to detachment of the retina and total blindness, usually in both eyes. The risk of severe sight-threatening ROP, which is higher in more preterm infants, can be reduced by quality improvement measures which reduce exposure to known risk factors such as poorly administered supplemental oxygen, sepsis and poor weight gain after birth. Early detection of sight-threatening ROP (ST-ROP), followed by urgent laser treatment, is highly effective in preserving the sight of babies.
Recent estimates show that 32,000 infants became blind or visually impaired from ROP every year world-wide, being a far higher estimate that 10 years ago. Most of the ROP-blind infants were born in countries in Asia.
Distribution of ROP and its effects across the globe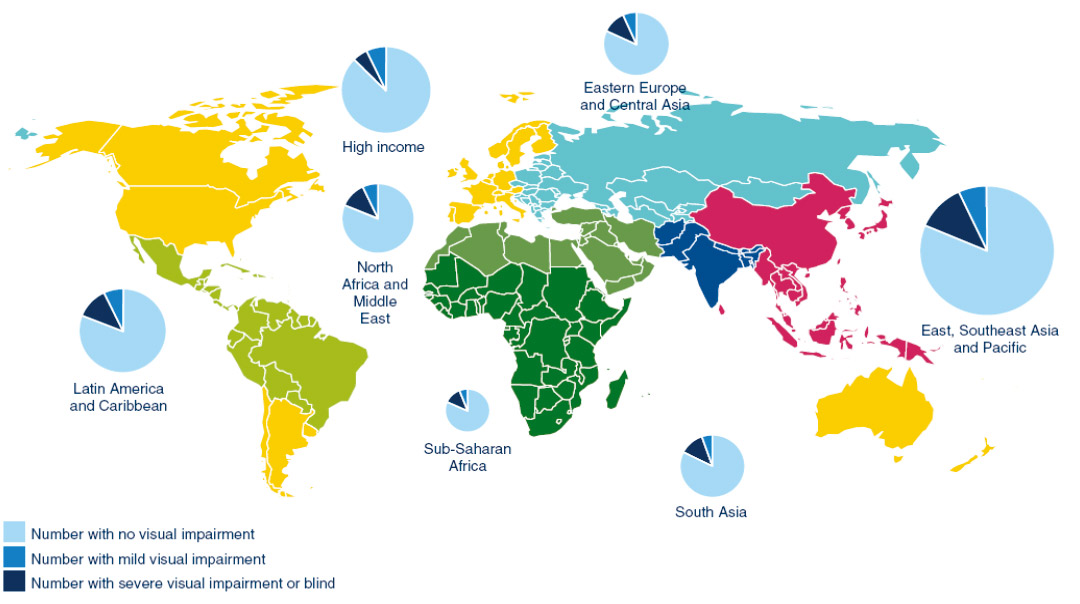 Quality Improvement Materials
Links to websites that offer Quality Improvement materials.
| Organisation Name | Website Link |
| --- | --- |
| Preterm Care - Eliminating ROP | |
| ONTOP - Online Neonatal Training Orientation Programme | |
| Newborn WHO Collaborating Centre | |
| Fedmin | |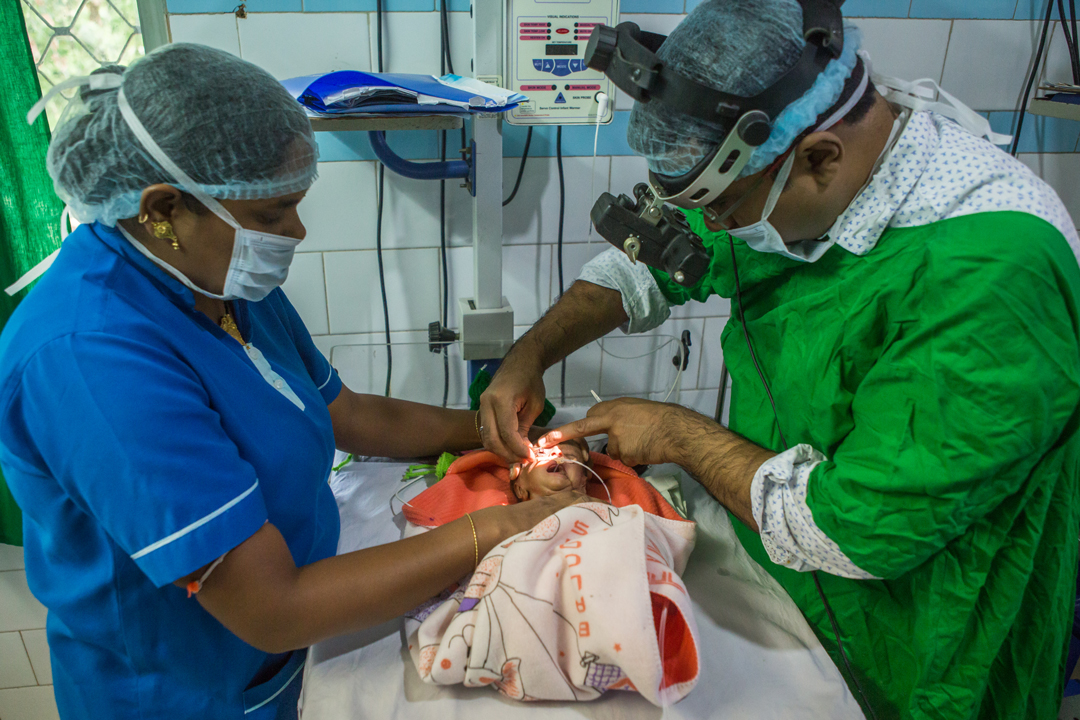 A nurse holds a preterm infant during an eye examination

Link to Indian Journal of Paediatrics special issue on ROP
The November 2016 issue of Indian Pediatrics carried a special supplement: "Retinopathy of Prematurity in India: Challenges and Opportunities" with Guest Editors Ashok Deorari and Clare Gilbert.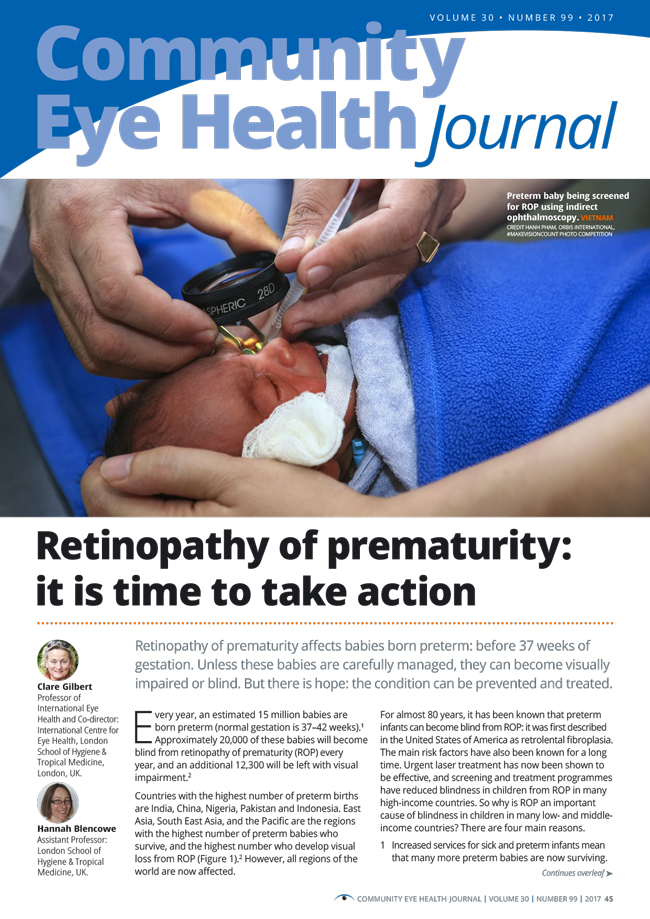 Community Eye Health Journal on ROP
This issue offers up-to-date information and guidance for each member of the clinical team involved in the care of preterm babies, including neonatologists, nurses, and ophthalmologists, and emphasises the importance of involving parents in every aspect of their child's care.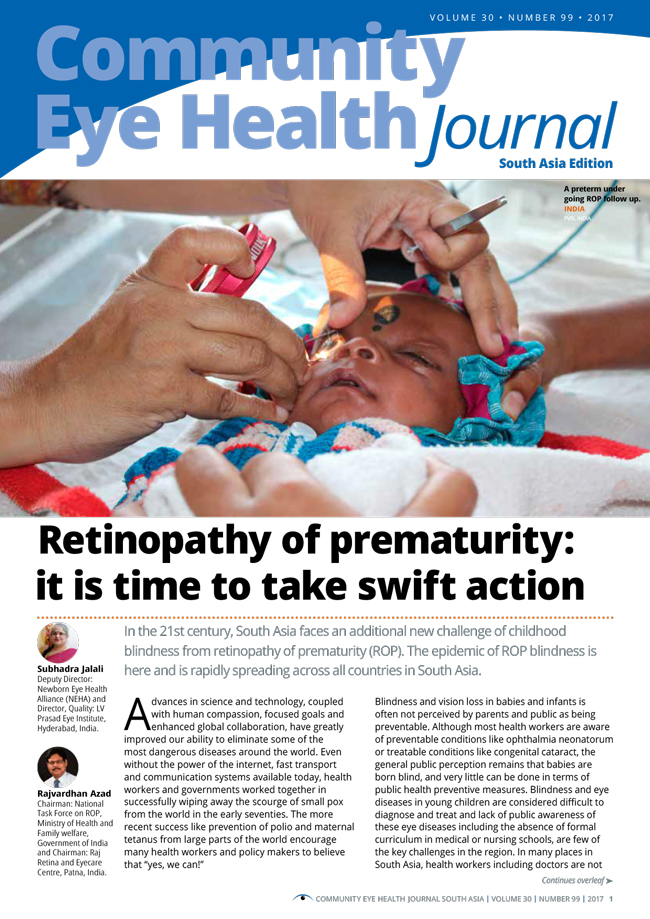 Community Eye Health Journal South Asia edition
We hope that you will be inspired to share this knowledge within your team and with others in the neonatology unit and thereby help to save the sight of many young children.
Retinopathy of Prematurity Android Application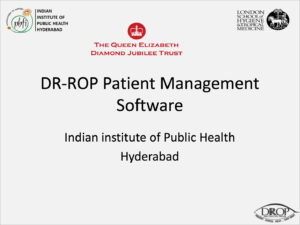 Retinopathy of Prematurity Application on Android Tablet is designed to capture patient information, eye screening results, patient follow-ups, scheduled appointments and patient reports. It syncs this data with the web version of this application, so patient data is available on both the versions.
The Web and Android Tablet will stay in sync via the Internet. The server database that will store all the details entered in the Web application will also act as a repository for the data saved in the tablet version of the application.
In case the internet is not available or is unstable, the data from the tablet will be stored in its local database.
The complete user guide to the Retinopathy of Prematurity app is available to download here.
Training Centres
Links to websites that offer training in screening, treatment and management of Retinopathy of Prematurity.
| Organisation Name | Website Link |
| --- | --- |
| Preterm Care - Eliminating ROP | |
| ONTOP - Online Neonatal Training Orientation Programme | |
| Newborn WHO Collaborating Centre | |
| Fedmin | |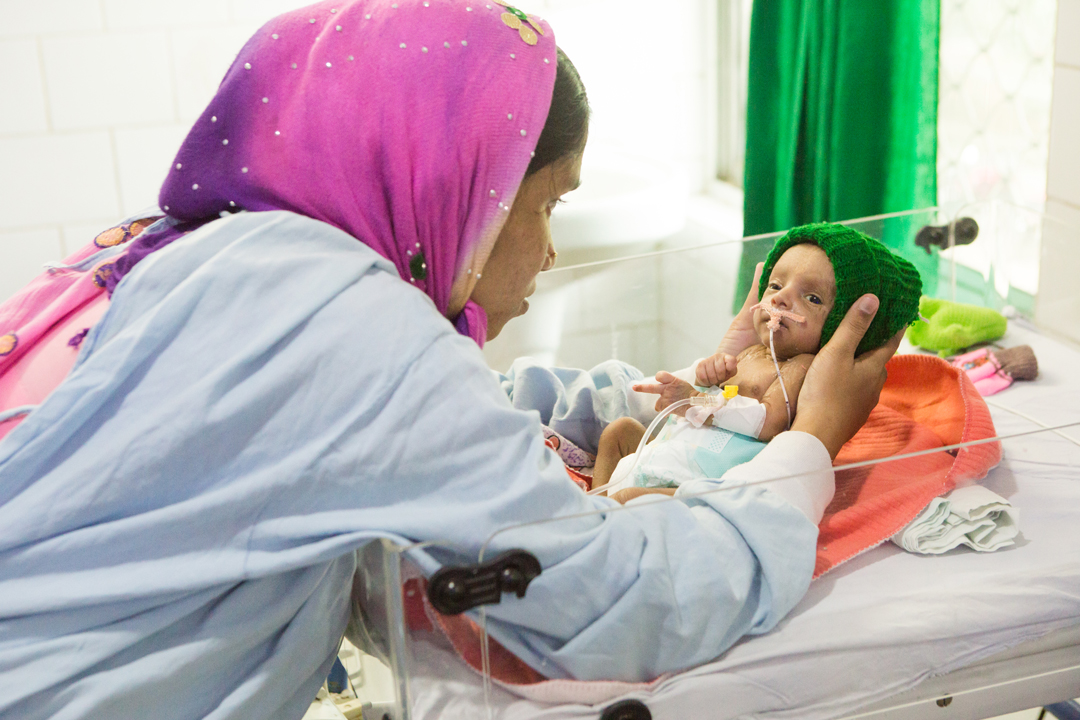 A mother looks at her preterm baby in Cuttack, India
Institutions Providing ROP Services under the Project
| Name of Institute | Address | Contact |
| --- | --- | --- |
| Shyam Shah Med College (SSMC) | Rewa, MP | 07662-241655 |
| Post Graduate Institute of Medical Education and Research (PGIMER) | Sector 12, Chandigarh, 160012 | 0172 274 7585 |
| Ujjain DH | Shrimant Maharaja, Agar Rd, Madhavrav Campus, Malipura, Ujjain, Madhya Pradesh 456006 | 0734 255 1077 |
| Sehore DH | Sewan River Square, Sehore, Madhya Pradesh 466001 | 087935 74344 |
| Dhar DH | 47, Dhar Rd, Sector A, Gujrati Colony, Indore, Madhya Pradesh 452002 | 0731 - 2382230, 2382886 |
| Kasturba Gandhi Medical College | Sultania Rd Near Hamidia Hospital, Royal Market, Bhopal, Madhya Pradesh 462001 | 0755 254 0590 |
| Name of Institute | Address | Contact |
| --- | --- | --- |
| SCB Medical College | SCB Medical College, PG Hostel, Cuttack, Odisha 753001 | 0671- 2414355 |
| Capital Hospital (Govt.) | Udyan Marg, Unit 6, Ganga Nagar, Bhubaneswar, Odisha 751020 | 0674 239 1983 |
| LV Prasad Eye Hospital | Mithu Tulsi Chanrai Campus, Patia Rd, Bhubaneswar, Odisha 751024 | 0674 398 7999 |
| SVPPGIP, Shishubhavan | Ring Rd, Chandini Chowk, Cuttack, Odisha 753002 | 094382 61926 |
| Khurda DH | 167/1 , Hospital Road , Khordha - 752055 | 6755 220187 |
| MKCG Medical College | Medical College Campus National Highway 59, Brahmapur, Odisha 760004 | 0680 229 2746 |
| Balasore DH | Hospital Rd, Manikhamb, Balasore, Odisha 756001 | 094375 65916 |
| Mayurbhanj DH (Medical College) | Mayurbhanj, Deulasahi, Bhanjpur, Baripada, Odisha 757107 | 06792-252678 |
| Name of Institute | Address | Contact |
| --- | --- | --- |
| Aundh DH (Pune Civil hospital) | Sanghvi Phata | 020 2970 0041 |
| HV Desai Eye Hospital | 93, Katraj-Hadapsar Bypass Rd, Tarawade Vasti, Mohammed Wadi, Pune, Maharashtra 411060 | 020 3011 4000 |
| KEM Hospital | 489, Sardar Moodliar Road, Rasta Peth, Pune, Maharashtra 411011 | 020 6603 7300 |
| Nashik DH | Trambakeshwar Road, Police Staff Colony, Nashik, Maharashtra 422002 | 0253 257 6106 |
| Osmanabad DH | Niramay Hospital, Shivram Wada, S.R.T.Colony, Osmanabad, Maharashtra 413501 | 02472 227 005 |
| Thane DH | Shankar Rao Pednekar Road, Opposite Police Quarter, Tembhi Naka,Thane, Maharashtra 400601 | 022 2547 2582 |
| Nagpur DH | Flat No 302, Shrikrishna Apartment, Near Sadhna Sahakari Bank, Jaripatka, Nagpur, Maharashtra 440014 | 0712 264 5400 |
| Name of Institute | Address | Contact |
| --- | --- | --- |
| Niloufer Children's Hospital | 11-4-721, Niloufer Hospital Rd, Red Hills, Lakdikapul, Hyderabad, Telangana 500004 | 040 2331 4095 |
| LV Prasad Eye Hospital | Kallam Anji Reddy Campus, LV Prasad Marg, Opp. PVR, Park View Enclave, Banjara Hills, Hyderabad, Telangana 500034 | 040 3989 2020 |
| Nalgonda DH | Rahamath Nagar, Ramgiri, Nalgonda, Telangana 508003 | 086822 23899 |
| Gandhi Medical College & Hospital | Bhoiguda Road, M.I.G.H colony, Musheerabad, Walker Town, Padmarao Nagar, Secunderabad, Telangana 500025 | 040 2750 5566 |
| Sangareddy DH | Opp police station, Dist,, Sangareddy, Telangana | 9000269555 |
| Pushpagiri Vitreo-Retinal Institute | Plot No 241, Uma Plaza, 9, West Marredpally, Secunderabad, Telangana 500026 | 040 2780 4949 |
| Name of Institute | Address | Contact |
| --- | --- | --- |
| Shyam Shah Med College (SSMC) | Rewa, MP | 07662-241655 |
| Post Graduate Institute of Medical Education and Research (PGIMER) | Sector 12, Chandigarh, 160012 | 0172 274 7585 |
| Ujjain DH | Shrimant Maharaja, Agar Rd, Madhavrav Campus, Malipura, Ujjain, Madhya Pradesh 456006 | 0734 255 1077 |
| Sehore DH | Sewan River Square, Sehore, Madhya Pradesh 466001 | 087935 74344 |
| Dhar DH | 47, Dhar Rd, Sector A, Gujrati Colony, Indore, Madhya Pradesh 452002 | 0731 - 2382230, 2382886 |
| Kasturba Gandhi Medical College | Sultania Rd Near Hamidia Hospital, Royal Market, Bhopal, Madhya Pradesh 462001 | 0755 254 0590 |

| Name of Institute | Address | Contact |
| --- | --- | --- |
| SCB Medical College | SCB Medical College, PG Hostel, Cuttack, Odisha 753001 | 0671- 2414355 |
| Capital Hospital (Govt.) | Udyan Marg, Unit 6, Ganga Nagar, Bhubaneswar, Odisha 751020 | 0674 239 1983 |
| LV Prasad Eye Hospital | Mithu Tulsi Chanrai Campus, Patia Rd, Bhubaneswar, Odisha 751024 | 0674 398 7999 |
| SVPPGIP, Shishubhavan | Ring Rd, Chandini Chowk, Cuttack, Odisha 753002 | 094382 61926 |
| Khurda DH | 167/1 , Hospital Road , Khordha - 752055 | 6755 220187 |
| MKCG Medical College | Medical College Campus National Highway 59, Brahmapur, Odisha 760004 | 0680 229 2746 |
| Balasore DH | Hospital Rd, Manikhamb, Balasore, Odisha 756001 | 094375 65916 |
| Mayurbhanj DH (Medical College) | Mayurbhanj, Deulasahi, Bhanjpur, Baripada, Odisha 757107 | 06792-252678 |

| Name of Institute | Address | Contact |
| --- | --- | --- |
| Aundh DH (Pune Civil hospital) | Sanghvi Phata | 020 2970 0041 |
| HV Desai Eye Hospital | 93, Katraj-Hadapsar Bypass Rd, Tarawade Vasti, Mohammed Wadi, Pune, Maharashtra 411060 | 020 3011 4000 |
| KEM Hospital | 489, Sardar Moodliar Road, Rasta Peth, Pune, Maharashtra 411011 | 020 6603 7300 |
| Nashik DH | Trambakeshwar Road, Police Staff Colony, Nashik, Maharashtra 422002 | 0253 257 6106 |
| Osmanabad DH | Niramay Hospital, Shivram Wada, S.R.T.Colony, Osmanabad, Maharashtra 413501 | 02472 227 005 |
| Thane DH | Shankar Rao Pednekar Road, Opposite Police Quarter, Tembhi Naka,Thane, Maharashtra 400601 | 022 2547 2582 |
| Nagpur DH | Flat No 302, Shrikrishna Apartment, Near Sadhna Sahakari Bank, Jaripatka, Nagpur, Maharashtra 440014 | 0712 264 5400 |

| Name of Institute | Address | Contact |
| --- | --- | --- |
| Niloufer Children's Hospital | 11-4-721, Niloufer Hospital Rd, Red Hills, Lakdikapul, Hyderabad, Telangana 500004 | 040 2331 4095 |
| LV Prasad Eye Hospital | Kallam Anji Reddy Campus, LV Prasad Marg, Opp. PVR, Park View Enclave, Banjara Hills, Hyderabad, Telangana 500034 | 040 3989 2020 |
| Nalgonda DH | Rahamath Nagar, Ramgiri, Nalgonda, Telangana 508003 | 086822 23899 |
| Gandhi Medical College & Hospital | Bhoiguda Road, M.I.G.H colony, Musheerabad, Walker Town, Padmarao Nagar, Secunderabad, Telangana 500025 | 040 2750 5566 |
| Sangareddy DH | Opp police station, Dist,, Sangareddy, Telangana | 9000269555 |
| Pushpagiri Vitreo-Retinal Institute | Plot No 241, Uma Plaza, 9, West Marredpally, Secunderabad, Telangana 500026 | 040 2780 4949 |